LSMerriment: Valentine's Day Dinner Date
There's nothing more tried and true than dinner at a restaurant to celebrate with your loved one on Valentine's Day. While we've all heard the pre-fixe / free Champagne bit before (not that there's anything wrong with that), we love the creative marketing ideas from the three restaurants listed below!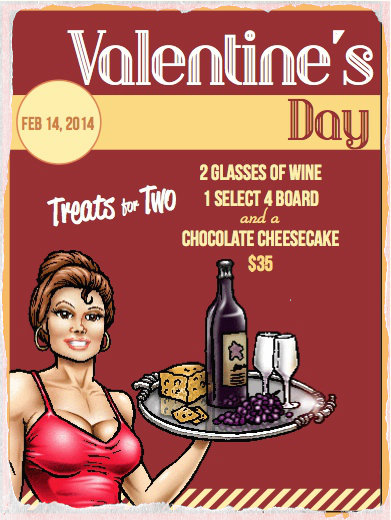 Cheesetique, a local cheese shop here in Alexandria, VA, has got the perfect set up for your Valentine's Day. Forgot to make reservations somewhere? No problem, Cheesetique doesn't take them anyway. Just want something light, not a 4-course extravaganza? That's ok – they'll set you up with a simple menu of wine, cheese and chocolate. And for just $35, it's the perfect price if you've already spent money on flowers, chocolate and jewelry (and you have, right?).
Society Fair, a market, wine bar and restaurant in Alexandria, VA is the king of "gourmet to go." For various holidays, they put together grab bags of perfectly prepared meals to take home to your family or friends, and Valentine's Day is no exception! For just $100, their customers get a four-course meal for two (plus sparkling wine and red wine) to enjoy in the comfort of their own home! They also have an option for dining in – doubling the number of guests they can serve that night! Great thinking!
Valentine's Day isn't for everyone, and Muss and Turner's (a neighborhood joint just outside of Atlanta, GA) has got those people covered. On Thursday night, they hosted an Anti-Valentine's Day Sour and Bitter Beer Tasting for their customers. Customers enjoyed 6 beers and a cheese sampler, and found comfort in the company of friends at the bar. A perfect play on words – the tasting was a fun way to show off new and different beer options by tying into the holiday in a non-traditional way. Love it!
That wraps up our LSMerriment Valentine's Day series! To recap, we've covered:
We hope you enjoyed it! Don't forget to share any fun Valentine's Day marketing ideas you've seen with us in the comments or on our Facebook page!